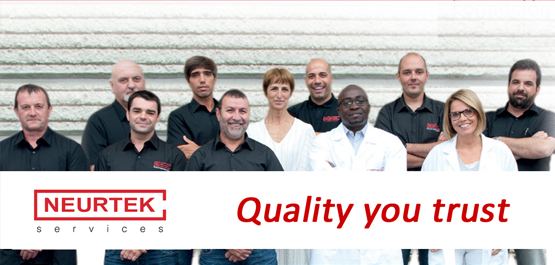 T. +34 943 82 00 82 | sat@neurtek.com
Monday to Friday: 8:00 am to 17:30 pm
---
OWN TECHNICAL ASSISTANCE SERVICE
Specialized, efficient and competent technical service, with excellent training in electronics, mechanics, software, etc. With great knowledge in applications.
A professional service available at all times in order to provide cooperative and reliable assistance.
---
ENAC ACCREDITED CALIBRATION LABORATORY
NEURTEK SERVICES is a Calibration Laboratory accredited by ENAC (Entidad Nacional de Acreditación, an entity recognized by ILAC; according to UNE EN ISO/IEC 17025 for:


> Optics Color, Gloss and Lighting
Colorimeters, reflection spectrophotometers and multiangle, color standards, glossmeters, lighting booths and rooms.

> Temperature and Humidity
Temperature, Relative Humidity and Isothermal characterization.
Thermometers, Temperature indicators, Isothermal systems (heater, ovens, refrigerated cabinets, etc.), Autoclaves, Climatic chamber and Thermo-hygrometers.
> Viscosity
Viscosity cups. 
---
NEURTEK SERVICES acreditation Nº 270/LC10.244
We calibrate instruments of all brands and models.
NEURTEK offers a comprehensive calibration service for which it has a collaboration agreement with reference laboratories for the following references: abrasión, hardness, thickness, adherence...
---
SERVICE AND MAINTENANCE CONTRACTS
Preserves the high quality characteristics and maximum reliability of the equipment involved in the production and control process with periodic maintenance and care to restore the predetermined operating conditions. Prevents service costs.
---
We have Original Spare Parts.
We anticipate our customers' needs in terms of spare parts management.
With the goal of putting the installation back into operation as soon as possible.